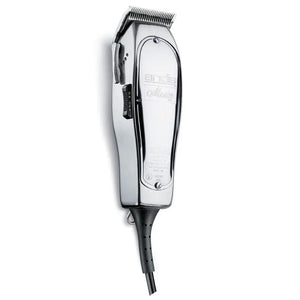 Andis Master Professional Clipper
Andis continues to grow globally. Almost 80 years ago Andis introduced products to Europe and today these products are available in 90 countries around the world. Barbers, stylists, groomers, and consumers everywhere continue to reach for Andis clippers, trimmers, dryers, blades, curling irons, and flat irons when they want to rely on top-performing tools.
Smooth Trimming Experience
Andis Improved Master Professional Clipper is designed for a great trimming experience. It's an ideal trimmer for all-around outlining and fading. This trimmer is equipped with side on-off operation switch, which can be comfortably handled with the push of a thumb. It has carbon-steel blades that are adjustable for fine to coarse hair. Using this clipper can make dry cutting easy and comfortable. It's an easy to use trimmer that gives results in no time.
Indestructible
Andis Improved Master Professional Clipper has an indestructible body that's made with aluminum. It's capable of withstanding every day wear and tear.
Purposes and Features:
Ideal for all-around outlining and fading
Quiet and high speed motor
Great for dry cutting
Magnetic motor
Strong and durable
Unbreakable and lightweight aluminum housing