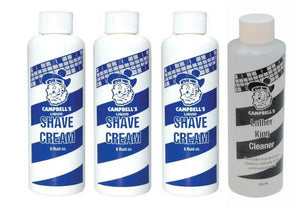 THREE Campbell's Instant Liquid Lather Shave Cream
8 fluid ounces
Concentrated Shaving Cream Soap
Shake Well Before Using
Campbell's Liquid Shave Cream is the Original Concentrate for LatherKing hot lather machines. Formulated to provide super-wet hot lather with instant and complete dispersion in Campbell's LatherKing dispensers.
Directions:
Mix 4 ounces (1/2 bottle) of Campbell's Liquid Shave Cream and 2 ounces (1/4 bottle) of LatherKing Cleaner with one gallon of Distilled Water. Shake solution prior to filling LatherKing soap cup. Do NOT Overfill. For thicker lather, do not add LatherKing Cleaner to solution and clean regularly following instructions on LatherKing Cleaner bottle.
Ingredients:
Deionized Water, Potassium Hydroxide, Propylene Glycol, Coco Fatty Acid, Palmitic Acid, Stearic Acid, Cocomidapropylamine Oxide, Phosphoric Acid, Fragrance
ONE Campbell's Lather King Cleaner
8 ounces
Product No. J-1263
Add 2 oz (1/4th bottle) of cleaner to each gallon of soap solution. Helps make good rich lather. Keeps lather dispenser clean. Frees sluggish parts, eliminates clogged soap passages, helps prevent soap deposits
Ideal for hard water areas
Cleaner may also be used to clean the machine by adding 2 to 4 caps full of cleaner to soap cup, add warm water and run machine.