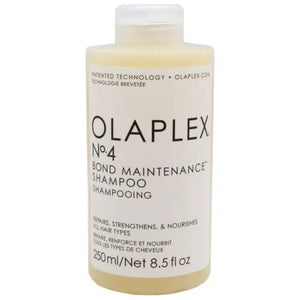 The Original Bond Builder
The only patented system to noticeably repair extreme damage—turn dry, brittle hair into soft, shiny, and more resilient hair.
Highly Nourishing & Reparative
No. 4 Shampoo repairs and protects hair from everyday stresses — including damaged hair, split ends, and frizz — by re-linking broken bonds.
How it Works
A single molecule, free of silicones and oils, dramatically improves the hair strength, protects from within, and provides immediate results.
Made to work on all hair types
From curly hair to stick straight, Olaplex is suitable & beneficial for all hair types.