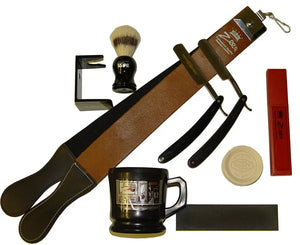 IN This Set : 2 Zeepk Straight Razor. 1 Zeepk Professional Razor Strop. 1 Bass Shaving Brush Made In Germany. 1 Shaving Mug. 1 Zeepk Razor Hone 1 Shaving Soap
* 2 Zeepk old fashioned straight razor * High quality carbon steel easy to sharpen * colored handle black * Full hollow ground biconcave blade with round point * Size: 5 1/2" sharp blade with original box case * Handcrafted by highly skilled craftsmen
Zeepk Professional Razor Strop This very affordable Double Razor Strop will keep your straight razor "Shaving Sharp" for many years to come. Made of Best Quality Leather, it was designed and intended for "Professional Barbershop Use, It has two separate leather straps. The tan strap is course to get your razor's blade in shape, whereas the black strap helps give your razor the perfect finish. Each Strop strap measures 2 " X 20", Swivel hanging tab, This item comes brand new and has never been used.